While the landscaping world saw an influx of unique styles and modern designs in 2019, this coming year's trends are predicted to focus on sustainability and consumer ease. Here is a list of themes in landscaping that we expect to see take on a bigger role in 2020.

Bringing the Indoors Out
As the world-wide effort to create a more sustainable environment and appreciate the outdoors continues, people are increasingly looking to spend more time in their yards. Recently, we have seen this as homeowners desire to bring the functionality of the indoors outside. This means making the outdoors more comfortable, so those tough weather-resistant couches are likely to be overtaken by cozy, plush furniture and cushions.
In addition, while showing off your new barbeque or grill used to be a big deal, the trend has grown to include elements like full kitchens, covered structures and/or full seating areas. Alderwood's recent projects exhibit this trend consistently. In addition, technological advances in heaters and lighting elements have made this more feasible. Even homeowners with tighter budgets are seeking to increase the versatility of their yard by adding complete dining spaces. Experts believe that this trend will carry on strong throughout this year.
Unique Lighting
Adding light sources and fixtures to a home's exterior is incredibly common due to the increased functionality. However, while outdoor lighting is not new to the landscaping world, experts believe that we will see an influx of more eco-friendly lighting elements placed somewhat erratically in 2020. Though LED and solar-powered illumination will be major themes throughout every lighting source, well lights and outdoor chandeliers are likely to be the most prominent.
In addition, it is predicted that the modern style of 2019 will continue into this years' lighting trend in the form of sleek lines. Lighting fixtures silhouetting the architectural elements of a homeowners' outdoor space will be hidden, revealing only the features themselves. To top it all off, controlling these features will be easier than ever as this next trend of taking technology outdoors gains popularity.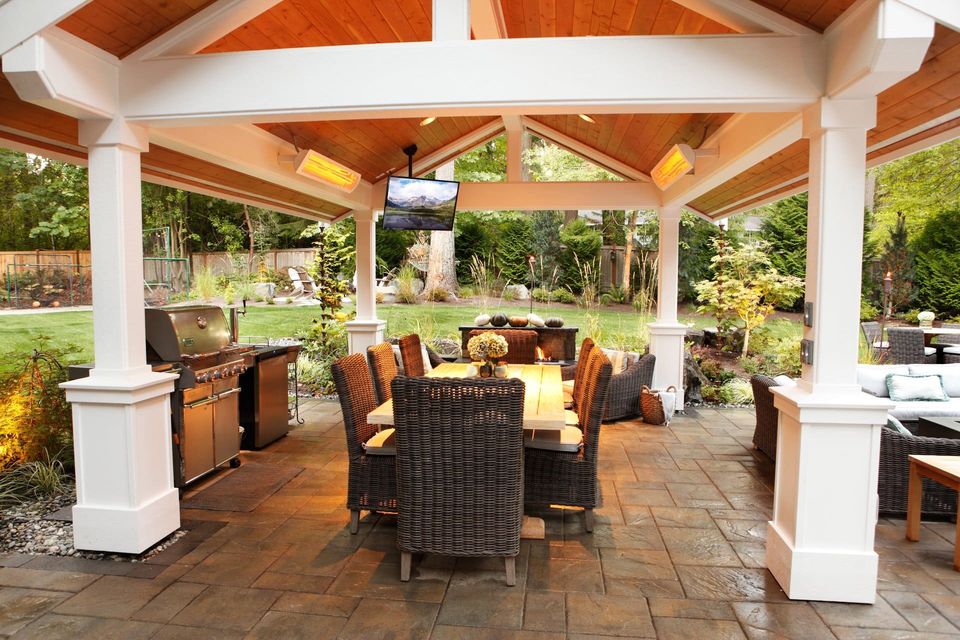 Increased Technology Integration
While technology first entered the landscaping world a few years ago, experts foresee usage increasing exponentially this coming year. With products like Amazon's Alexa and Google Home allowing consumers to control everything from their lights to their television with just their voice, the obvious next step is watching this trend follow consumers outdoors. The main feature leading the way is the ability to control everything from your mobile device. Apps now enable homeowners to power outdoor lights and irrigation systems.
Camera systems have also made it possible to monitor outdoor spaces from anywhere--and some even include motion-activated pest control features. These technological advances not only help homeowners save on water and electricity bills, but also gives them a sense of security even when they are away from home.
Low-Maintenance
Stressed and busy are recurring themes amongst Americans today and the less time a task takes to get done, the better. Thus, speed and efficiency are at the forefront of every business' mind. This attitude has been carried into lawn design, care and maintenance. For architecture, this means that more homeowners are choosing the ease of porcelain pavers, ground covering plants and mulch over the hassle of grass. In addition, asymmetrical designs are seen as easier to maintain than those with symmetry because most people consider them as to not need as much maintenance. Thus, we expect more hardscaping and asymmetrical designs this year.

Do you want to see one or more of these trends come to life in your backyard paradise this year? Or do you have another transformation idea? Whatever your design plan may be, our team of landscape architectural professionals are ready to help you reach your backyard resort goals for 2020. Contact us today to get started!