With all of the designs, styles and features now available for outdoor fire elements, it is no wonder that these glowing sources of heat have become essential to backyard renovations. We love getting the opportunity to make clients' custom fireplace visions come to life and to see them experience the benefits for themselves! In addition, while firepits and fireplaces are different in many ways, the benefits we list here apply to them both. Thus, regardless of which fire element you are looking to implement in your yard, this article is for you! Here are five reasons to love this outdoor amenity.

Backyard Functionality
As mentioned in our blog on predicted trends for this year, people still desire to increase the amount of time they spend outdoors. A firepit provides the perfect opportunity to do just that. As a source of both light and warmth, a firepit area increases the usability of your yard during summer evenings as well as throughout the rest of the year.
Unique Entertaining
Many people would agree that there is something special about gathering with a group of friends around the glowing embers of a fire. When brought into your landscape design, a firepit adds a tasteful ambiance to afternoon parties and romantic evenings. With your own outdoor firepit, creating memories while watching flames dance late into the night is no longer a pastime solely for vacations.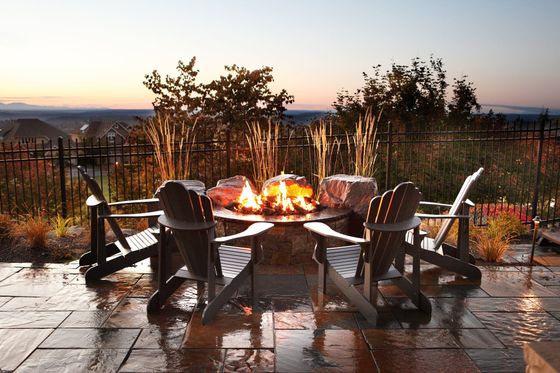 Old-Fashioned Cooking
Depending on the style and type of firepit you choose, throwing a grill plate over the flame is a great way to cook up your favorite meal. It is also ideal for those who want the features of a barbecue without the price tag. Nevertheless, even if you already have a barbecue, firepits still provide the ideal setup for a family night of toasting hot dogs and roasting marshmallows.
Added Value
Not only will a blazing fire add to the visual appeal and aesthetic of your home, it has also been proven to increase the monetary value. Thus, if you are worried about whether or not you would get your money out of this new addition as an owner, you should know that you may get its value back upon selling your home.
Magical Ambiance
While it may seem obvious, it is worth mentioning again that the ambiance offered by a crackling fire is, without a doubt, unparalleled. While the Alderwood team loves water features, outdoor kitchens, pools, hot tubs and masterfully created backyard resort spaces, we know that the coziness brought in by fire elements can't be replicated by anything else.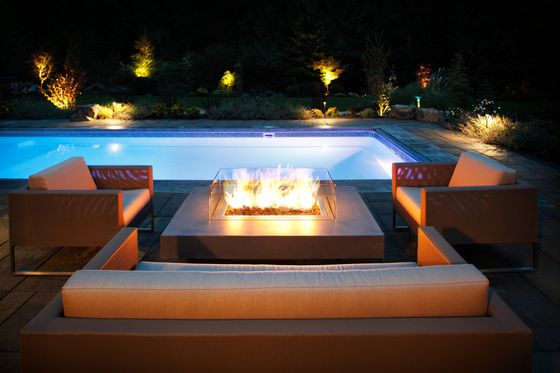 Our team of licensed landscape architects and designers would love to help incorporate a firepit or fireplace into the design for your backyard remodel. Contact us today to get started on an outdoor space you can enjoy for years to come!