Creating a small, yet functional, outdoor space while also maintaining style and aesthetics is not easy. This difficult task is best accomplished by bringing in multi-use furniture and decorating with a vertical focus. Here are a few of our favorite ideas!
Corner Bar
If your patio has an empty exterior corner, install outdoor bar seating. Where walls meet to form a 90-degree angle, especially under a window, creates a perfect place for additional room. All you need is a free afternoon, a couple of bar stools, a beautiful sanded piece of scrap wood, some tools, and you're set! This space provides an out-of-the-way place for dining and relaxing. It can also serve as a prime spot for your favorite decor!
Vertical Garden
With a small backyard, use height to your advantage. Vertical gardens (via fences, vines, hanging pots, etc.) are a great use of any dead space and are quite trendy right now. They also offer fantastic opportunities to re-use old items as planters, such as colanders, coffee containers, or plastic buckets.
Elements
Many people think you must have a large backyard to have any elaborate elements. However, there are plenty of small options that serve as ideal focal points in a quaint space. Our team loves these columnar basalt pieces because they do not take up much space, yet provide the aesthetically-pleasing and relaxing trickle of water right in your backyard.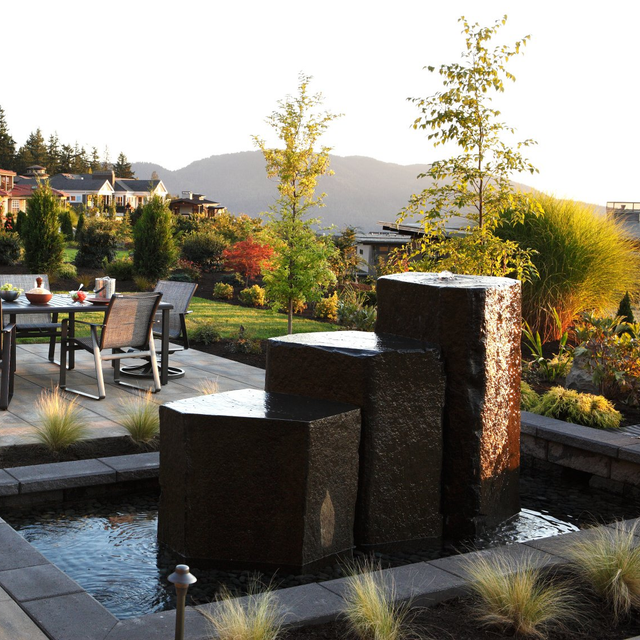 Read more about this projectOther water features that vary in size, and some fire pits, can fit seamlessly in tiny spaces. Many firepits of this capacity are portable for ultimate flexibility.
Multi-Purpose Areas
As mentioned, using dual-use items is critical for smaller yards. Benches are especially ideal for cramped urban landscapes since they provide storage and seating in one. Get more use out of your patio space by adding a pergola or awning to create an outdoor room. Hanging plants or garden herbs are perfect patio or deck additions for a personal touch.No matter the size of your backyard, functionality and style are definitely do-able. With a bit of creativity, your tiny space can be both practical and classy.