Summer may be coming to an end, but that doesn't mean your outdoor get-togethers have to. An outdoor fireplace and fire pit both provide plenty of warmth and light to keep the party going well into cooler months.
But what's the difference between an outdoor fireplace and a fire pit? And which one is best for your home?
OUTDOOR FIREPLACE VS. FIRE PIT: WHAT'S THE DIFFERENCE?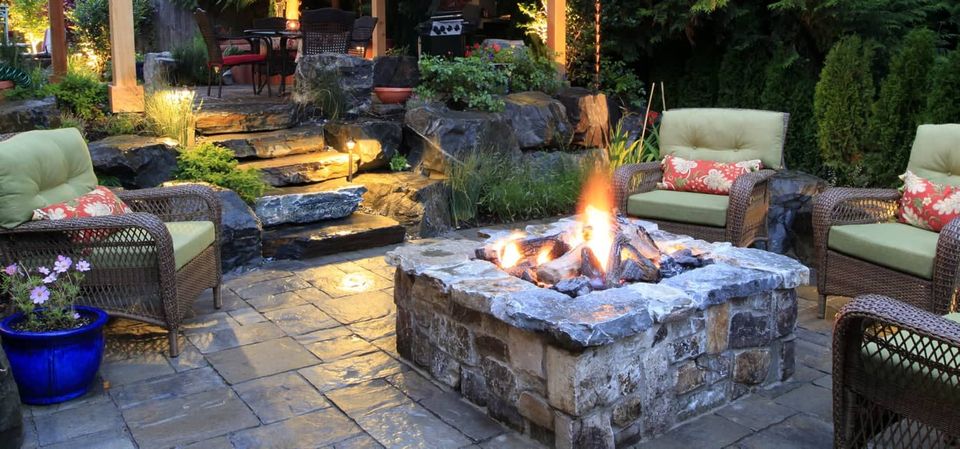 An outdoor fireplace and fire pit are similar when it comes to their functionality and aesthetic. They both have a romantic aesthetic that invokes feelings of comfort and relaxation. But outdoor fireplaces and fire pits are different when it comes to their structure. What works for the landscaping of one yard may not work well for another.
Outdoor fireplaces are permanent structures.
They have a chimney and a firebox for smoke ventilation and are often built in a rectangular shape. Outdoor fireplaces are also often built with brick, stone, river rock, concrete, or limestone. If you choose to build an outdoor fireplace, it can either be attached to your home or built on your patio or deck. These structures work best for large backyards because homeowners often choose to incorporate amenities such as fireplace tools. But you can still build an outdoor fireplace if you have a small yard. Fireplaces can be custom built to fit the size of your yard as long as they have a chimney and a firebox.

Compared to fireplaces, fire pits are significantly smaller
They're also lower to the ground than an outdoor fireplace. Although there are guidelines for the height of a fire pit, they can be built to a customized width and depth. Fire pits are a great landscaping choice for homeowners who don't want to obstruct their view with an outdoor fireplace. But if you're looking for hardscaping that will give you a better semblance of privacy, an outdoor fireplace may be more up your alley.
Where Can I Find Landscape Architects Near Me?
Landscape architects can take your home to the next level. In fact, landscaping services can increase your home's value by up to 14%. If you're looking for landscape architects and landscape companies in Bellevue and Spokane, Alderwood Landscaping is the landscape service for you. To learn more about our landscape designs, contact Alderwood Landscaping today.