Landscape walls serve both functional and aesthetic purposes. They're often used in landscape designs as decorative accents or seat walls. They're also used as retaining walls. The materials used for landscape walls are most often driven by the architectural features of the home. Landscaping services can explore different landscaping materials with you. But ultimately the choice is yours.
That said, here are the pros and cons of using natural stone for your own landscape walls:
THE BENEFITS:
Natural stone is an umbrella term for materials like flagstone, brownstone, field-stone, and others. Natural stone comes in a variety of shapes, textures, and colors. This makes it easy to pair with the architecture of your home.
Natural stone works best when used when the length and height of the landscape walls are minimal, such as accent walls around a garden or water feature. It creates a romantic aesthetic that is sensually appealing.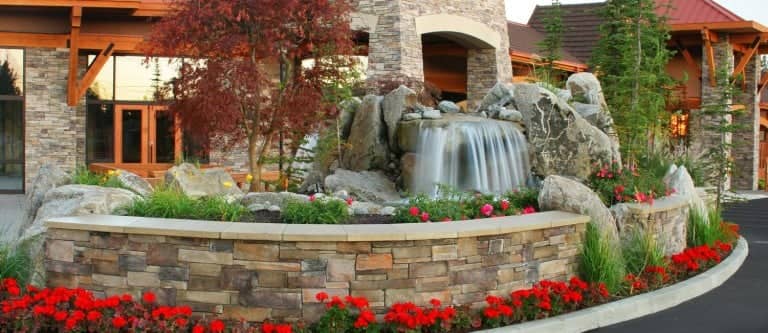 The key benefits of using natural stone for landscape walls include:
Mortar and other connections aren't necessary to fit them together
Easy to use for low accent walls around your home
More natural appearance for gardens and blooms
Complements the architectural styles of older homes
THE DISADVANTAGES:
Unfortunately, natural stone does come with its own fair share of problems. First, natural stone isn't recommended for large retaining walls. This is especially true of walls over three feet tall.
And although your landscapers don't need to use mortar, it's recommended. This is because mowers can move or break the natural stone walls if mortar isn't holding it together. A wrong move that's forceful enough could damage your accent walls.
However, mortar can also increase the maintenance on the walls. This is because mortar may crack with age. Still, with proper maintenance, natural stone is a good choice for landscape walls.
Up to 67% of Americans say professional landscaping services would let them have a nicer yard. Summer is one of the best times to develop the landscaping designs of your dreams.
Whether you need landscaping in Spokane or Bellevue, Alderwood Landscaping has the landscaping services you need. To learn more about landscape ideas and landscaping in Spokane, contact Alderwood Landscaping today.