We love creating stunning, resort-feel landscapes for homeowners. If your yard is simple and lacks the opulent ambience of your home, keep reading! We have shared a few of our tips for how you can extend a luxury feel into your yard!
Detailed Design
Enhancing the aesthetic of your outdoor space is about much more than adding elements. While a magnificent water feature and custom fireplace are fine additions, you cannot merely throw them in your backyard and expect the results to replicate a Four Seasons exterior. Designing with a 5-star goal in mind requires careful planning and attention to detail. A pool is an excellent addition to any yard, but a custom-built paver patio with clean edges, lounge furniture, and accent lighting will take any pool area to the next level. Keep this tip in mind, especially if you want to include several different features--focus on the pavers, garden beds, and lights in the transition between elements. Clean layouts and detailed designs provide the most luxurious outcomes.
Luxury Decor
A recent trend in backyard remodels is to include an outdoor kitchen. More than just an area for your grill, these exterior rooms are often covered and usually include counter space, a sink, or even a small refrigerator. When planning your outdoor space, know that building a backyard oasis is about creating an extension of your home. Whether your add a living space, pool area or kitchen, remember to make it comfortable, accessible year-round (with built-in heaters for colder months) and style it as you would your interior. Outdoor curtains along the structure, lots of pillows, and outdoor chaise lounges all help transform your yard to become a serene paradise.
Focus on Fluidity
Speaking of serenity, sumptuous landscapes are often known for their peaceful aura. If your yard has multiple spaces, keep them separate enough to ensure one area does not disturb or "collide" with another. That being said, it is essential to maintain the same style throughout the landscape. In this project, our landscape architect ensured a distinction between the lounging area and the dining table with a stunning basalt water feature. Maintaining the consistent theme of straight edges and modern materials in the design, however, ensured the property flowed together nicely.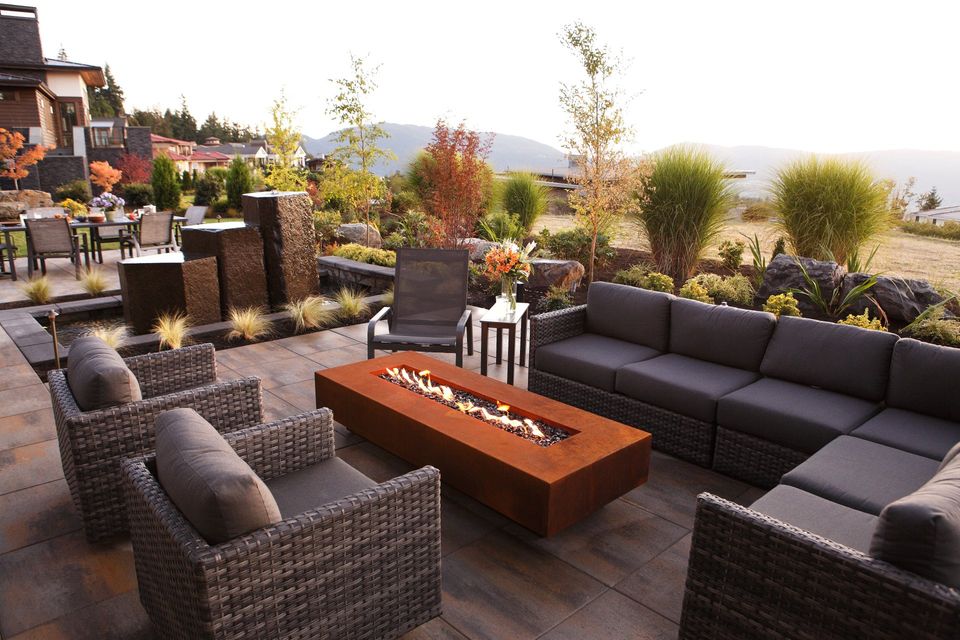 Hire an Expert
Without a doubt, creating an upper-class exterior can be daunting. From the design details to the installation of larger elements, an extensive outdoor remodel is a big project. If you want timeless results without the stress of coordination, consider hiring a landscape architecture company to take care of the work for you! With the right team, you can rest assured that your backyard luxury dreams will surely come true.
Ready to take that first step?
Give Alderwood a call to chat about the details of your project and to schedule a free consultation!