Inspired by the outdoorsy-yet-trendy vibes of the Pacific Northwest, many outdoor fixtures merge home and nature to completely zen-ify your space. After all, relaxing, gardening and entertaining are typically the top three uses of homeowner's outdoor spaces. With these landscaping trends, you are sure to be relaxed.
Gas Firepit
A classic among landscaping trends, fire-pits play beautifully in outdoor spaces. The woodsy smell of smoke and the orange flickering light creates the perfect ambiance. Nothing says rustic yet luxurious like a fire-pit in your own backyard. But maybe you don't want to deal with storing wood, getting the flames started, and then waiting for it to die down before turning in for the night after your guests leave. A hassle-free option is a gas fire- pit. Relaxing by the fire is easy as turning a switch on and off. A landscape designer could easily work with you to create a custom option that meshes perfectly with your patio. Moreover, a landscape architect could build your home an entirely new patio space with a gas fire pit smoothly worked in.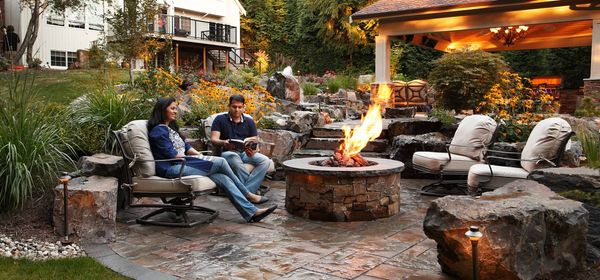 Waterfall
Nothing is as relaxing as the hushed bubbling and light mist of a waterfall. A mini backyard waterfall will look especially beautiful with natural stone and a teeny creek. The right landscape architect will build it seamlessly into your existing landscaping.
Outdoor Kitchen
This one is obviously a little larger of a project than a fire pit or waterfall, but oh-so-worth the effort when the smell of dinner sizzling mingles with fresh outside air. Best paired with an outdoor seating area, of course, an outdoor kitchen can be outfitted with all the commodities of its inside counterpart — fridge, stove, oven, counter space, and yes, even a convenient little wine fridge. Often rendered in beautiful natural materials like rustic woods and stone, outdoor entertainment has never felt so chic and easy as with a kitchen space actually located where the party is.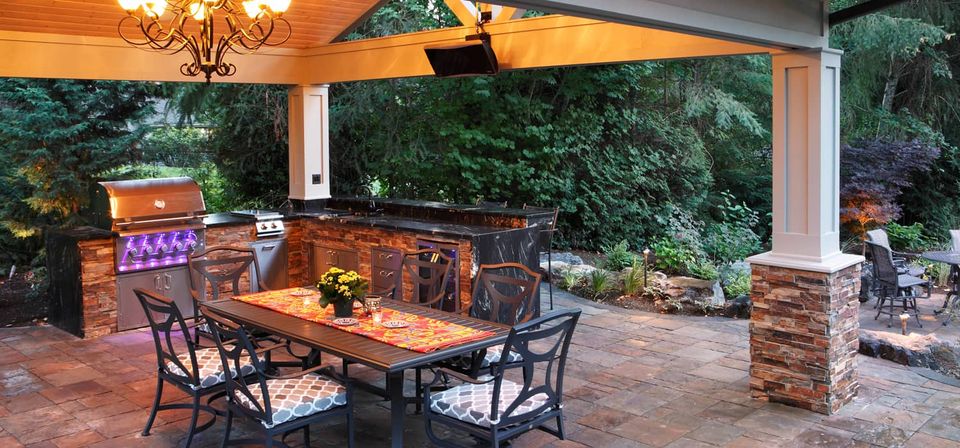 Outdoor Bar
Maybe you're not a fan of bringing the whole kitchen outdoors. Outdoor entertainment and happy hour can still be elegantly supported by a simple outdoor bar space. Maybe covered by a pergola or integrated into your patio space, an outdoor bar is fairly undemanding. Sitting in the summer heat with a fresh, cold cocktail is all the motivation you need.
Sport Court
For some, breaking a sweat and some friendly competition is one of the greatest stress relievers. Among landscaping trends, a sports court at a private homeowner's residence is still somewhat unusual, but such an underrated and fun choice. Whether basketball, tennis, volleyball or some multi-use combination, you can be sure that a personal court is a relatively low-maintenance fixture that will excite guests and get you moving.


Need a little piece of zen in your space? Alderwood Landscaping provides personalized and progressive landscaping services out of Spokane and Bellevue. Contact us to partner with our in-house architects in making your landscape ideas come brilliantly to life.