When this client began to build his dream home, he chose to entrust Alderwood Landscaping with the exterior. With the homeowner's contemporary style in mind, our team designed and built his outdoor paradise.
Design Goals
Since the home was recently built, our crews started with a clean slate. When approaching our architect, this client requested a low-maintenance design that complimented the smaller size and unique architectural style of the lakeside property. Having worked with Alderwood in the past, he let us know his general goals, and then rest assured knowing the outcome would exceed his expectations. In the end, the goal was to provide a simple yet modern luxurious resort.
Lakeside Challenges
Though this project appears somewhat simple in design, several challenges arose throughout the construction process. Being so close to the lake, the property needed a large amount of drainage work. The location also meant there were permitting and access issues to solve. Our crews carefully planned each step so as to work efficiently with such restrictions. We also coordinated with the home construction crews for seamless installation of the gas and electrical lines. Because of projects like these, Alderwood diligently adheres to schedules and timelines.
Landscape Elements
The lavish fire pit is perhaps the most notable design element. With a sleek modern design that coordinates with the house, the fire pit area offers stunning sunset views of the lake.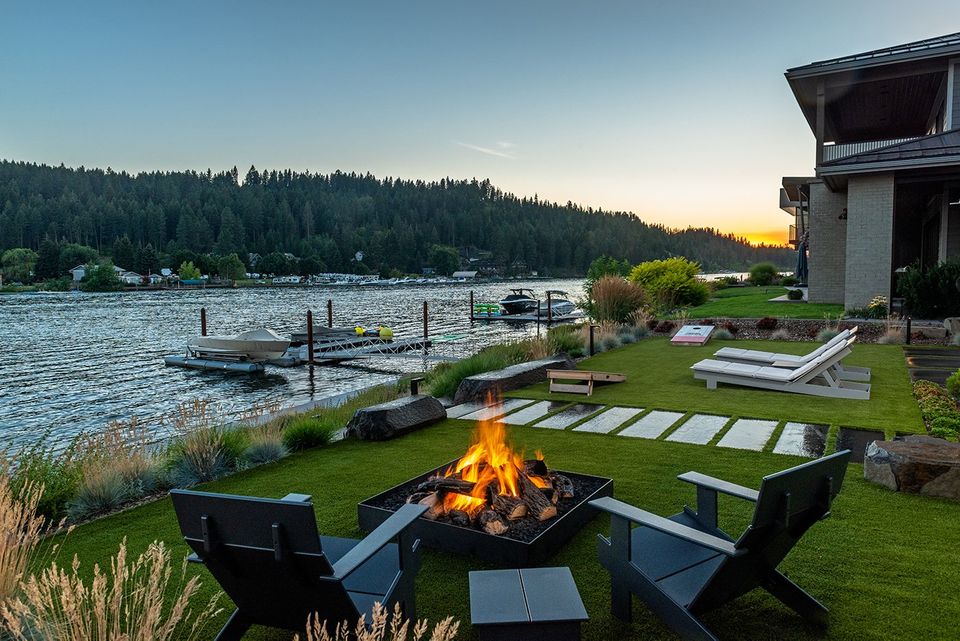 Since access to the dock was essential, we installed large, hand-cut basalt steps to secure the property's edge and redirect any run-off to avoid water contamination. The walkway, with native plantings and grasses on either side, offers a natural, manicured look. Similarly, low-growing shrubs around the property and between the fire pit and dining areas act as visual barriers. By separating spaces and creating the illusion of different "rooms," the outdoor space appears roomier and is more entertainment-focused. These design features give the landscape a simplistic, luxury feel.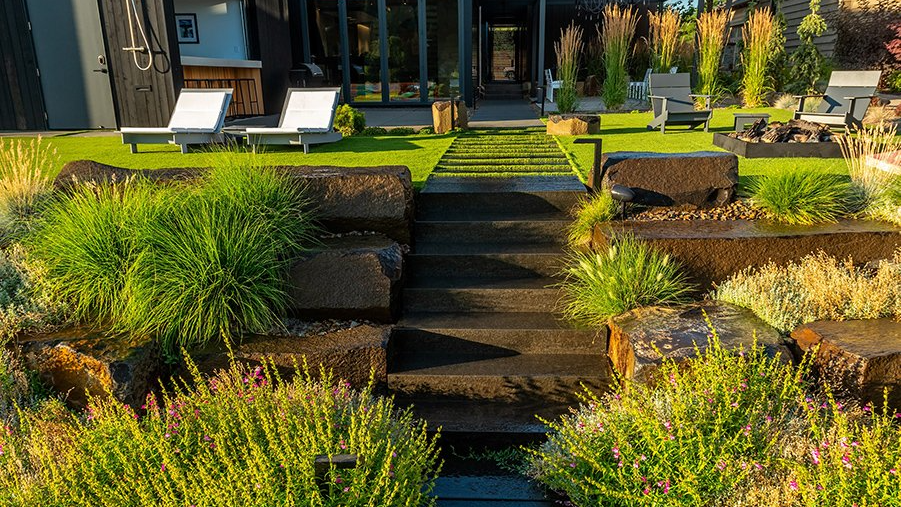 With the final product, Alderwood exceeded the client's expectations. Synthetic grass and native plantings helped achieve the low-maintenance design while also solving drainage problems. Stressing strict 90-degree angles and flat line accents in each detail of the landscape complemented the home's contemporary architectural style.
The final project exceeded our homeowner's expectations.
Able to produce a stunning result even in a small space, Alderwood created a modern resort perfect for years of entertaining!