Wondering how luxury and sustainability can co-exist in a landscape design?
Completing this landscape was especially rewarding for our team. Not only was the final result gorgeous, but to achieve a low-maintenance, natural design, our team implemented several sustainable practices. This article briefly looks at each eco-friendly method completed in the details of this project. Located lake-side in Idaho, this property provided unique challenges. In addition to strict permitting, difficult access, and county code, our crews also dealt with steep grading issues. Continue reading to learn how to overcome these hurdles and see how stunning a sustainable landscape can be!
Wanting to be environmentally friendly and preserve the natural space as much as possible, our landscape architects crafted a natural design. We installed two beautiful water features, with long flowing streams and multiple layers of falls, that worked with the landscape's grade. Using the water feature elements and large basalt boulders to act in place of a retaining wall gave the natural plants and grasses the ability to grow in and around the features. Maintaining the majority of the original vegetation and minorly altering the grade provided the natural, low-maintenance result that the clients desired.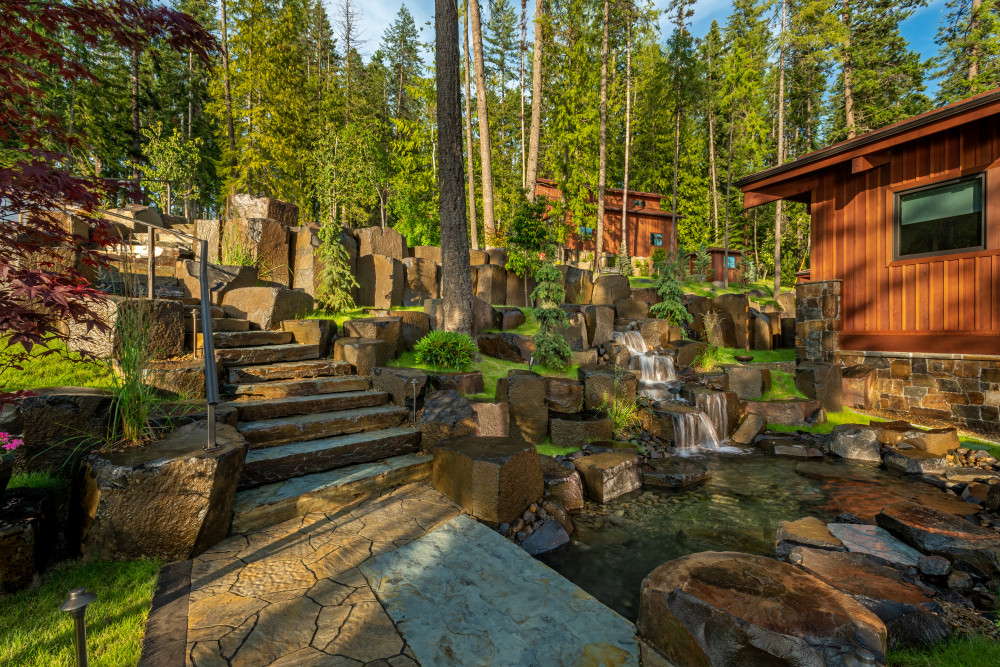 In another effort to take care of the eco-system, our design included several dry beds, which fill and become natural streams during heavy rainfall. These are not only an artistic design detail, but by controlling water flow, they help eliminate any puddling water. Best of all, these dry beds help re-direct runoff so as not to pollute the lake water. Regardless of whether your property is on a body of water or not, we advise you to understand precisely where the stormwater runoff in your landscape goes to help eliminate pollution of your local rivers and streams.
Other sustainable practices in this backyard resort included the irrigation system and the long gravel driveway. Like most of our work, this landscape's automatic sprinkler system connects to a weather station to only water as needed, depending on natural rainfall. Instead of a concrete driveway, our clients chose to save costs and resources by choosing gravel instead.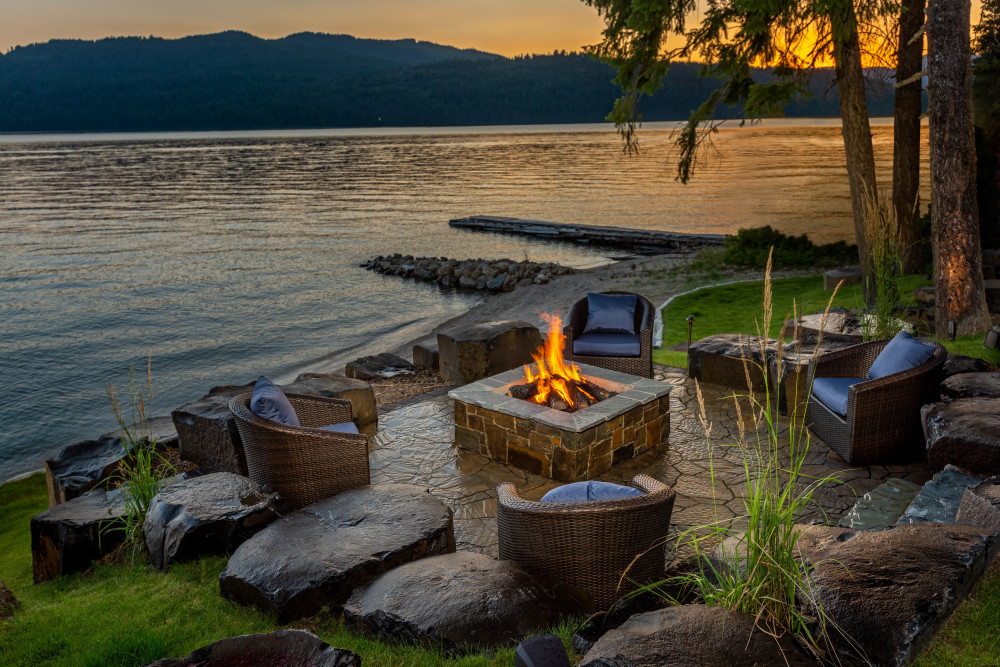 By taking care of details like these, our clients can relax, knowing their gorgeous outdoor space is both low-maintenance and improving the environment. We know these homeowners will enjoy this outdoor space for years to come!
[Ready to Experience Luxury Living in Your Own Backyard?] button