In Washington and Idaho's most affluent neighborhoods, numerous families enjoy life in their dream homes. For many of these homeowners, however, stunning entertainment spaces begin and end with their homes. Only a few of them have unlocked their backyard's potential! After experiencing their outdoor transformation, many of our clients express that they feel like they've gained additional square footage with the usable entertainment and lounge space!
Here are a few of our most expansive landscape transformations that truly take entertaining to the next level!
Spokane Wedding Retreat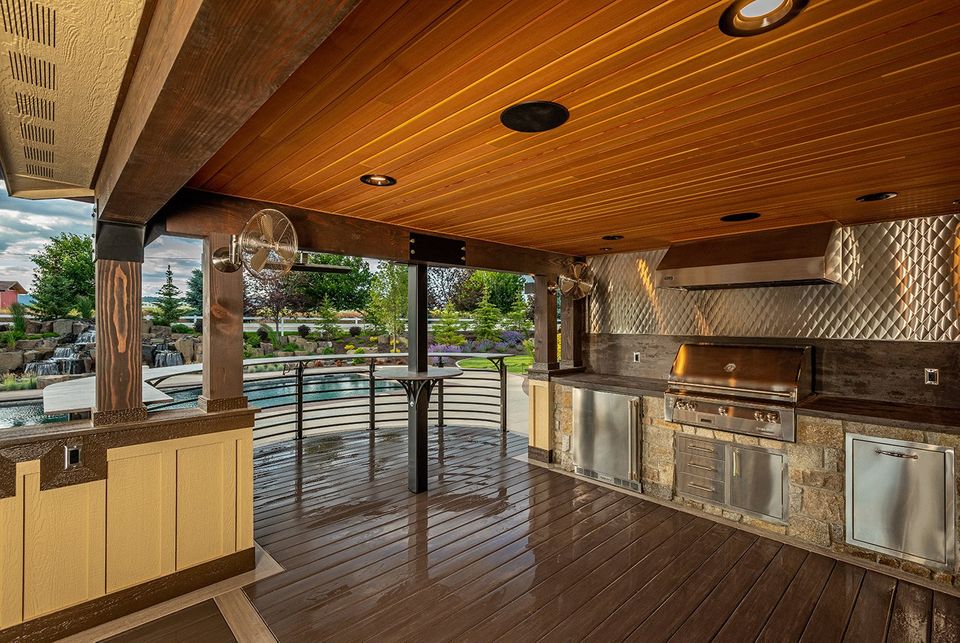 This stunning project was designed and built for the purpose of entertaining and hosting large gatherings. The large covered kitchen, built right off the home, has everything this homeowner could need for any party or wedding. The standing bar offers both a unique design element and an excellent observation deck to see the pool, water feature and expansive lawn area. Due to the modern style used throughout the entire project, every area of the property displays opulence.
View more photos from this project here.
Suburban Backyard Oasis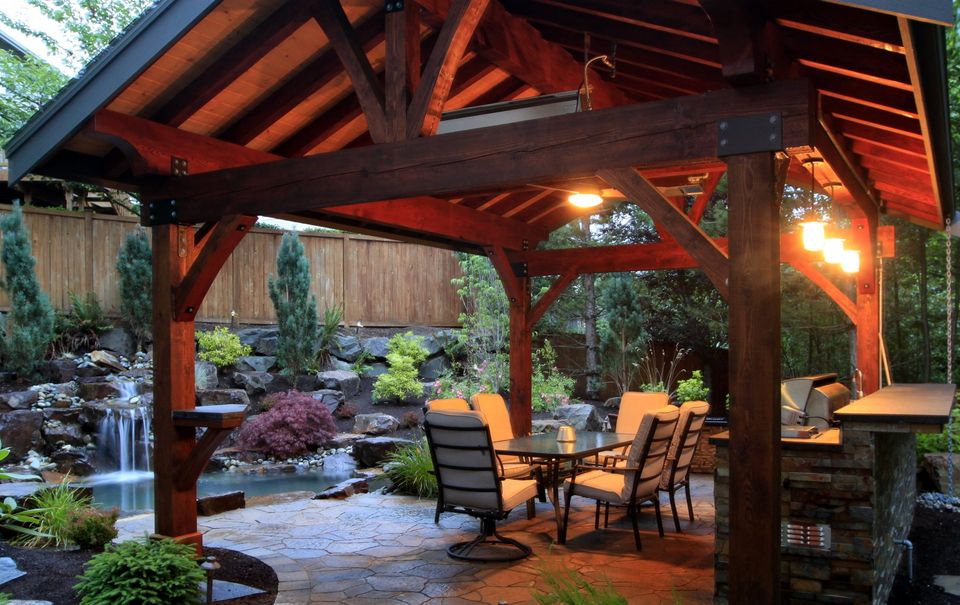 Entertaining in this backyard means welcoming guests into a private forest oasis! The dark wood structure offers coverage from inclement weather, and the water feature and green belt provide a beautiful, natural backdrop. With such a small property, this project showcases how you can create an aesthetic entertainment space even when hosting small groups.
View more photos from this project here.
Redmond Resort Paradise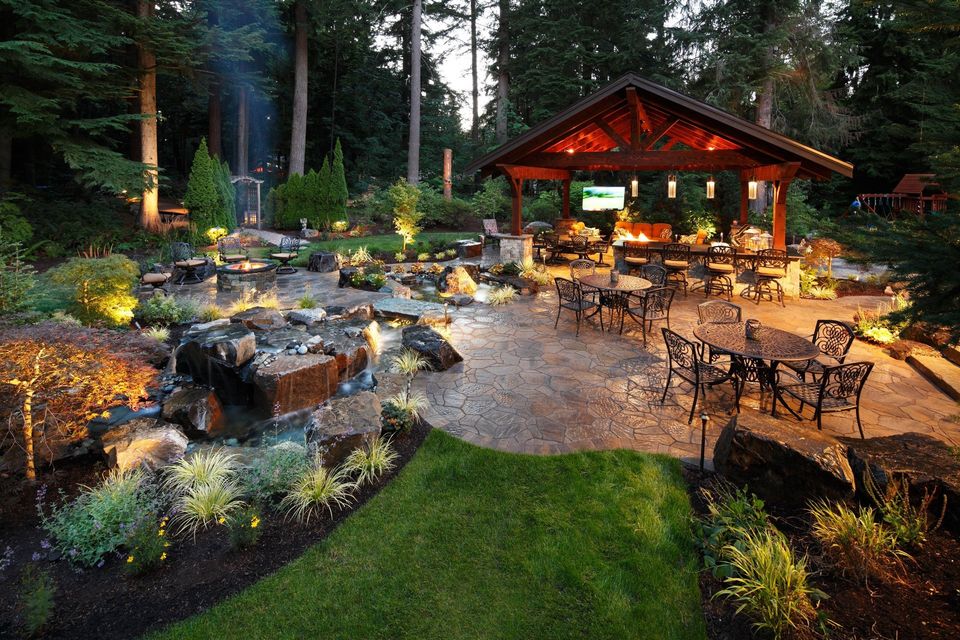 Perhaps one of our most extensive landscape remodels, this resort paradise is the ultimate host's backyard. The large paver patio provides several areas for guests to dine or lounge, with a custom-built water feature as the focal point. However, the covered structure is ultimately what sets this home apart. No matter the PNW weather, the party can go on at this property; multiple seating areas, the kitchen features, and a fire pit are safe from the elements underneath the structure.
You don't want to miss seeing the rest of this project here!
Issaquah Hawk's Nest Landscape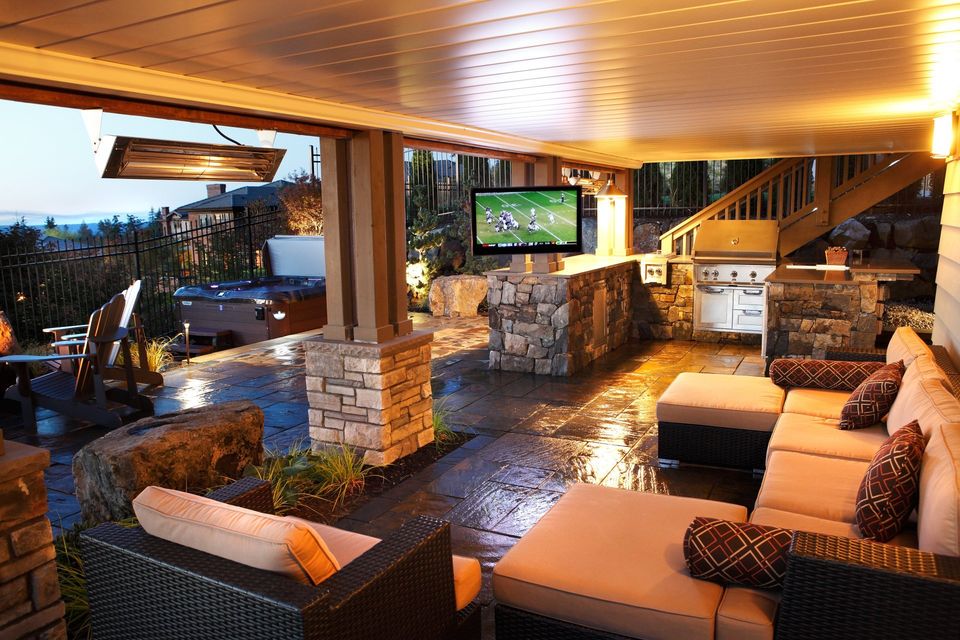 This landscape in the Issaquah Highlands neighborhood provides the perfect place for a relaxing evening. Both the fire pit area and sofa are placed for prime viewing of the mountains and cityscape. The outdoor kitchen is precisely located for the space's optimal flow. Whether watching the sunset or enjoying the hot tub or pool, there are plenty of ways this homeowner can wind down with family and friends in their backyard.
Private Poolside Retreat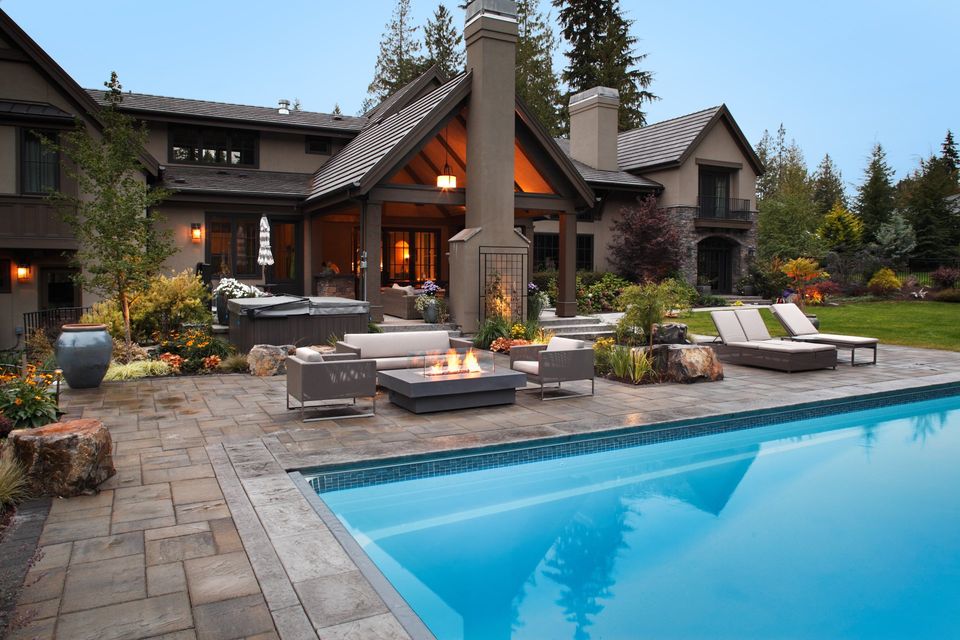 This outdoor space has entertaining written all over it! From the gorgeous pool and hot tub to the multiple lounge and fire pit areas, this renovation offered our clients the best use of this large yard. The synthetic lawn, covered structure and paver patio are equally instrumental in the resulting luxurious aesthetic.
View the design plan for this project and see more pictures here!
Are you starting to imagine your yard's possibilities? Tired of limiting your entertaining to inside your home, especially on rainy days?
Give us a call to begin thinking through the potential of your landscape!