With the holiday season in full swing, a quick trip around the neighborhood is sure to reveal plenty of houses illuminated with bright lights, blow-up Santa's, and mechanical reindeer. However, there are plenty of ways you can bring a little red and green into your winter landscape without plugging in a single light. Here at Alderwood, we are in the Christmas spirit and excited to share with you some ideas for how to decorate your yard with natural elements and winter plants!
Holly Bushes
Typically thought of as a Christmas plant, the holly bush boasts lush green foliage and bright red berries. Holly branches can be purchased from most home and garden stores and are perfect for decorating front porches or adding to wreaths. If you want bright holly bushes in your garden to welcome guests year-round, the beginning of winter is the perfect time to plant them. Pay careful attention when buying, though, as only female holly plants bear the famous red berry. You can either plant both a male and female plant next to each other or purchase a female plant that can produce fruit without the male. Either way, a snow-covered yard full of these plants screams "holiday season"!
Wreaths
Decorating your front porch can be as simple or as time-consuming as you want it to be. Adding a wreath to your front door is an easy way to show your holiday spirit! This time of year, stores are full of many different styles and sizes of wreaths. Or, if you enjoy DIY projects, you can make one! Typically, holiday wreaths consist of evergreen branches, pine cones, and bright red ribbon. Some people use dried fruit to add a splash of color to their front door décor. If you are not sure what to add to your homemade wreath, grab the kiddos and take a stroll through the neighborhood, collecting acorns and foliage.
Garland
While garland may be considered an indoor decoration, it looks lovely outside as well. Wrapped around railings or intertwined with ribbon and holly, garland draped over your front porch is an excellent natural décor. Combine with leftover swag from your Christmas tree, decorative birdhouses, or wooden signage for a stunning entrance like this one!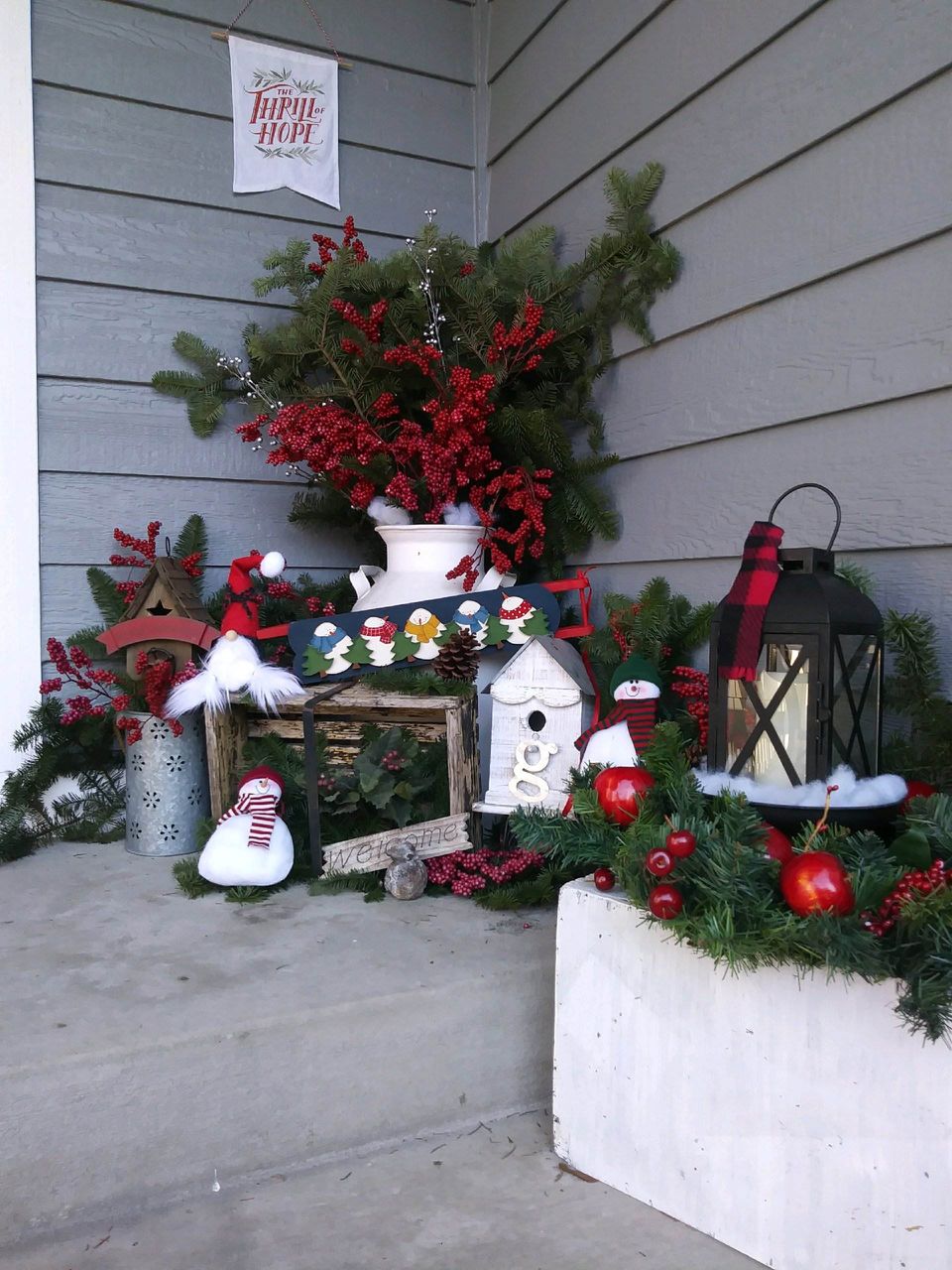 Dwarf Alberta Spruces
These fun little trees grow in a Christmas-tree shape, making them the perfect addition to any Northwest landscape. Some people keep them in pots and place one on either side of their front door, creating a simple yet elegant look. When planting, ensure the spruces will get plenty of sun and have enough room for vertical growth (sometimes up to 10 ft)!
Outdoor Ornaments
Why leave the festive Christmas trees inside? If you have any bare-branched trees outside, grab some cheap ornaments and go to town! If you want to bring a birdie visitor or two to your yard, make your own birdseed ornaments and hang them from your trees outside! Use holiday-shaped cookie cutters, birdseed, and either coconut oil or flavor-less gelatin. Your winter bird-friends will be grateful, and you'll have the perfect view for endless birdwatching!
Check out this article for more ways to bring birds to your yard this winter
We would love to hear how you are decorating your back (or front) yard resort this season! Let us know down below!