Rocks come in many shapes and sizes, and bringing them into your landscape can add much-needed visual interest and functionality.
Mulch Replacement
River rock is an excellent ground covering alternative. It is durable, drains well, and, unlike mulch, does not have to be replaced each year. Using small rocks in your garden beds and around your yard is a great sustainable option for landscaping.
Natural Border
Larger rocks and boulders add visual appeal around gardens and pools. Use larger stones to elegantly frame a garden bed or draw attention to your favorite flower. Make your stunning backyard pool appear natural by surrounding it with large boulders and greenery. While this task is best accomplished with an experienced landscape architect by your side, it would undoubtedly be worth every penny.
Visual Decor
Bringing in a large boulder, especially one with a unique shape or curve, is a fantastic option for a focal point in a yard. In one of our projects, our team used a massive boulder water feature to draw attention past the client's pool to the rest of the yard.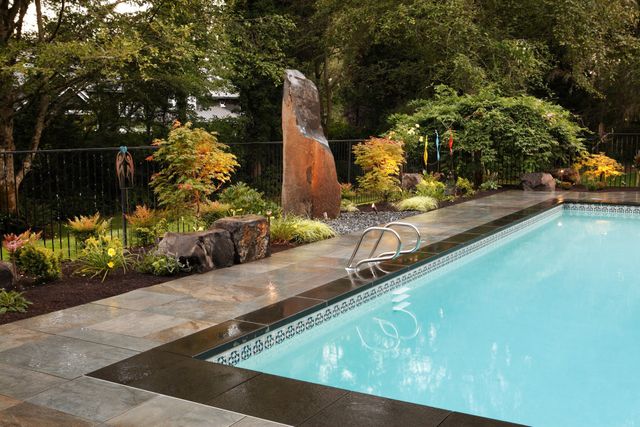 Larger, specialized rock such as basalt and granite boulders are beautiful décor pieces that bring unique color and texture to your outdoor space. In the base of a fire pit, colored glass is a fun way to add a splash of color to the area.With these rock options and plenty of others not mentioned, you have plenty of creative leeways when it comes to bringing stone into your landscape!